Empanadas are a type of savory pastry that are popular in many Latin American countries, as well as in Spain and the Philippines. They consist of a pastry dough that is filled with a variety of savory ingredients, such as meat, vegetables, cheese, or seafood, and then folded and sealed to create a pocket or turnover shape.
The dough for empanadas can be made with flour, water, and fat, such as butter or lard, and may also include eggs and/or other ingredients like vinegar or baking powder. The fillings can vary depending on the region and culture, but common fillings include ground beef, chicken, pork, cheese, vegetables, and seafood.
Empanadas can be fried or baked and are often served as a snack or appetizer. They can be enjoyed hot or cold and can be found in many Latin American countries, Spain and the Philippines in street food carts, restaurants, and bakeries.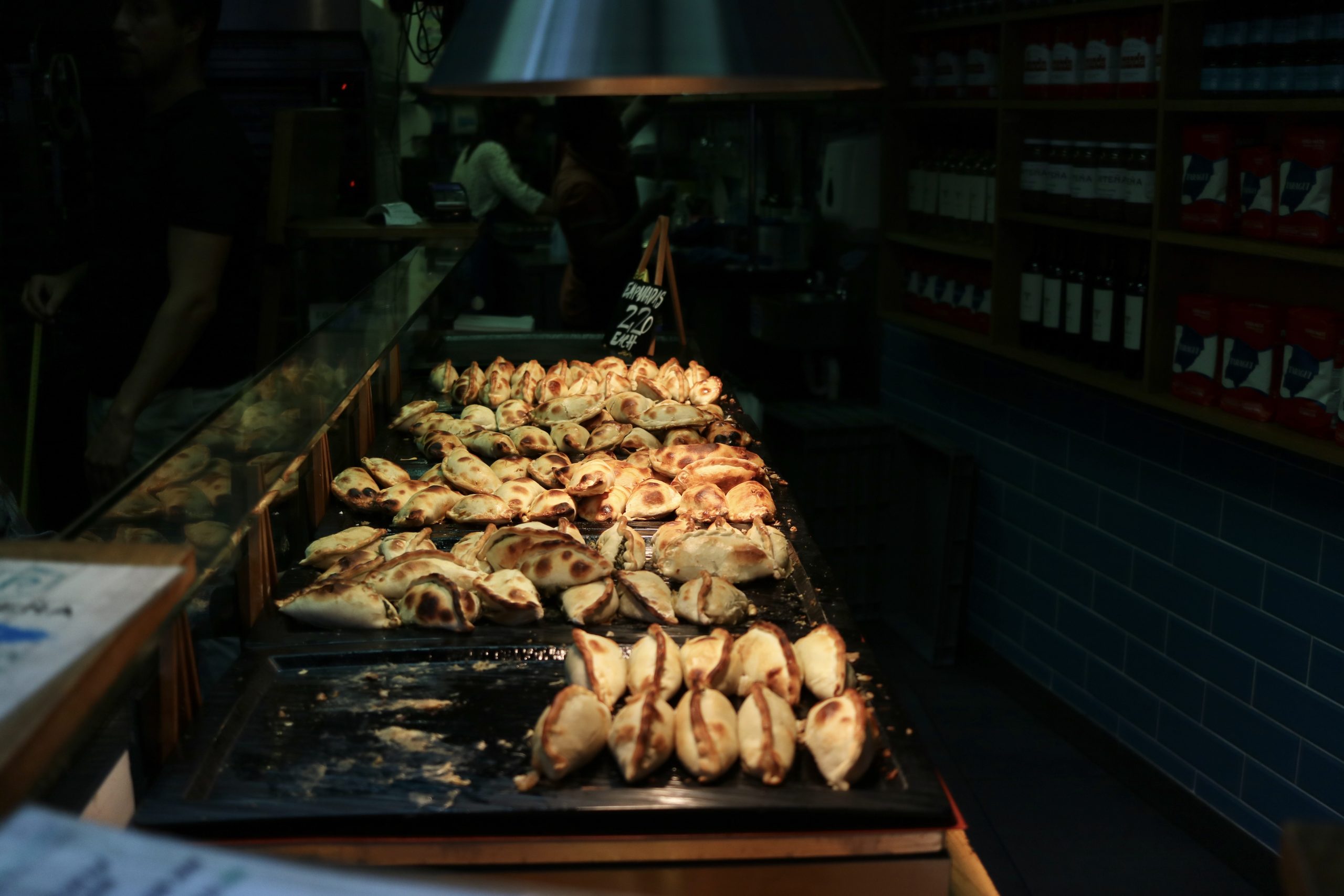 Here is a recipe for making empanadas at home:
Ingredients:
2 cups all-purpose flour
1/2 teaspoon salt
1/2 cup vegetable shortening
1/2 cup cold water
1 egg
1/2 cup ground beef
1/2 cup diced onions
1/2 cup diced bell peppers
1/4 cup diced olives
1/4 cup raisins
1/4 cup chopped hard-boiled egg
1/4 teaspoon cumin
Salt and pepper to taste
Oil for frying
Instructions:
In a large mixing bowl, combine the flour and salt. Cut in the shortening until the mixture resembles coarse crumbs.
Slowly add the water, stirring with a fork until the dough comes together. Knead the dough for about 5 minutes, or until it becomes smooth and elastic.
Roll out the dough on a floured surface and cut into circles with a cookie cutter or a glass.
In a skillet, cook the ground beef over medium heat until browned. Add the onions, bell peppers, olives, raisins, hard-boiled egg, cumin, and season with salt and pepper. Cook for an additional 5 minutes.
Place a spoonful of the filling on one half of each circle, then fold the dough over and press the edges to seal.
Heat oil in a pan over medium-high heat, and fry the empanadas until golden brown, about 2-3 minutes per side. Drain on paper towels to remove excess oil.
Empanadas can also be baked instead of fried, for a healthier option. Preheat the oven to 375 degrees F (190 degrees C) and place the empanadas on a baking sheet lined with parchment paper. Brush the tops of the empanadas with beaten egg or egg wash and bake for 15-20 minutes, or until golden brown.
Once the empanadas are cooked, remove them from the heat and let them cool for a few minutes before serving. Empanadas can be served hot or at room temperature, and are often accompanied by a dipping sauce such as chimichurri or aioli.
You can enjoy your delicious homemade empanadas with a side of salad or beans, or with a cold drink.
Note: You can also experiment with different fillings like chicken, pork, cheese, vegetables or even fruit fillings like apple or guava.