Cinnamon buns are a delicious pastry made from a sweet dough that is rolled and filled with cinnamon sugar and sometimes other ingredients like raisins or nuts. The dough is then sliced into individual rolls and baked until golden brown. Cinnamon buns are often topped with a cream cheese frosting, adding a rich and decadent touch to the already mouth-watering treat. They are perfect for breakfast, brunch, or a sweet snack.
Ingredients:
2 and 3/4 cups all-purpose flour
3 tablespoons granulated sugar
1 teaspoon salt
1 package instant yeast (2 and 1/4 teaspoons)
1/2 cup water
1/4 cup milk
2 and 1/2 tablespoons unsalted butter, cut into small pieces
1 large egg
1/2 cup brown sugar
2 tablespoons ground cinnamon
1/3 cup unsalted butter, at room temperature
Cream cheese frosting (optional)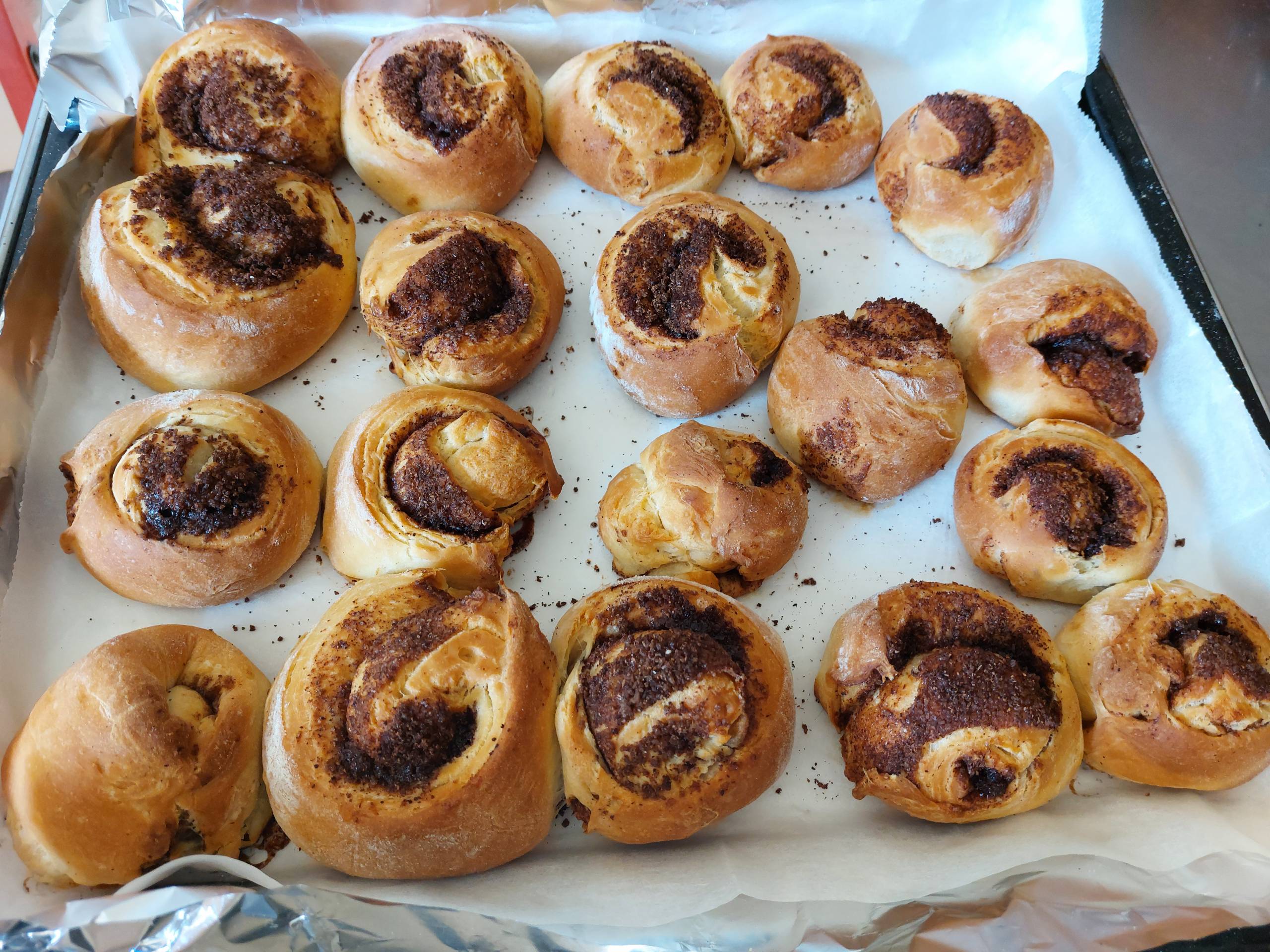 Instructions:
In a large mixing bowl, combine 2 and 1/4 cups of flour, sugar, salt, and yeast.
In a separate microwave-safe bowl, heat the water, milk, and butter until the butter is melted.
Pour the wet ingredients into the dry ingredients and mix until a dough forms.
Add the egg and mix until incorporated.
Add the remaining 1/2 cup of flour and knead the dough for 5-7 minutes until it becomes smooth and elastic.
Place the dough in a greased bowl and cover with a towel. Let the dough rise in a warm place for 1 hour or until it doubles in size.
Preheat the oven to 375°F (190°C).
In a small bowl, mix the brown sugar and cinnamon.
Roll out the dough on a floured surface into a large rectangle (about 16×12 inches).
Spread the butter evenly over the dough, then sprinkle the cinnamon sugar mixture on top.
Roll the dough tightly from the long end to make a log.
Cut the log into 12-14 even slices and place them in a greased baking dish.
Cover the dish with a towel and let the buns rise for another 20-30 minutes.
Bake the cinnamon buns for 20-25 minutes or until they are golden brown on top.
Let the buns cool for 5 minutes before serving.
If desired, top the cinnamon buns with cream cheese frosting. Enjoy!