Gyoza is a Japanese dumpling typically filled with ground pork, vegetables, and seasonings. Here is a recipe for making gyoza:
Ingredients:
1 package of gyoza wrappers (about 40 wrappers)
1/2 pound of ground pork
1 cup of shredded cabbage
1/4 cup of chopped scallions
2 cloves of minced garlic
1 tablespoon of grated ginger
1 tablespoon of soy sauce
1 teaspoon of sesame oil
1/2 teaspoon of salt
1/4 teaspoon of black pepper
Water
Vegetable oil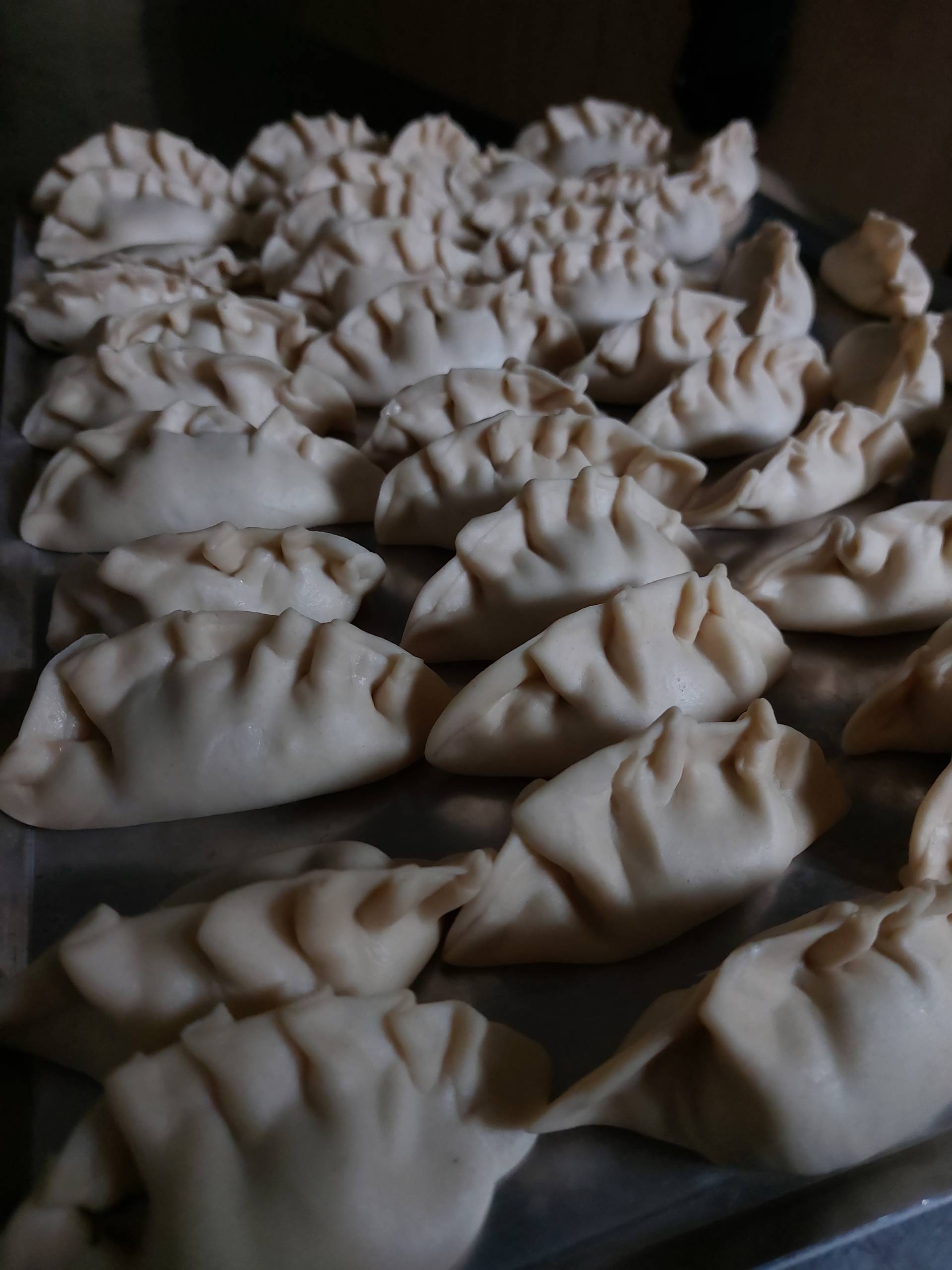 Instructions:
In a large bowl, combine the ground pork, shredded cabbage, scallions, garlic, ginger, soy sauce, sesame oil, salt, and black pepper. Mix well.
Place a small amount of the filling (about 1 teaspoon) onto a gyoza wrapper. Dip your finger in water and run it around the edge of the wrapper.
Fold the wrapper in half and pinch the edges together to seal. Continue filling the remaining wrappers.
Heat a non-stick skillet over medium-high heat and add 1 tablespoon of vegetable oil. Place the gyoza in the skillet and cook for 2-3 minutes, or until the bottom is golden brown.
Add 1/4 cup of water to the skillet and cover with a lid. Cook for an additional 2-3 minutes, or until the water has evaporated and the gyoza are fully cooked.
Remove the gyoza from the skillet and serve hot with soy sauce and/or dipping sauce of your choice.
Enjoy your homemade gyoza!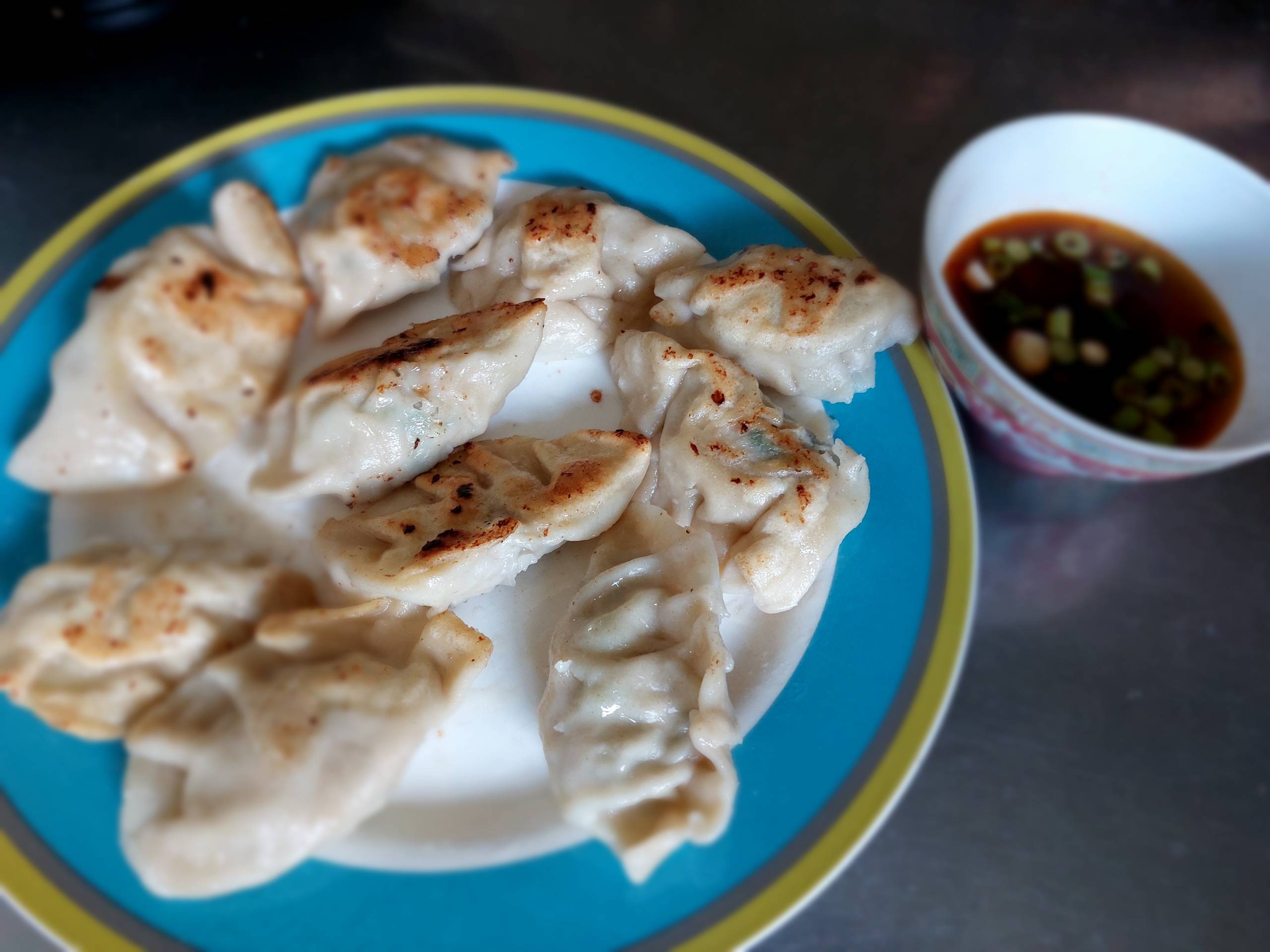 Here is a recipe for gyoza wrappers, which can be made from scratch:
Ingredients:
2 cups of all-purpose flour
1/2 teaspoon of salt
3/4 cup of boiling water
1/4 cup of cold water
Instructions:
In a large mixing bowl, combine the flour and salt.
Slowly pour the boiling water into the bowl, stirring continuously with a fork until the mixture becomes crumbly.
Add the cold water, a little at a time, and knead the dough until it becomes smooth and elastic.
Cover the dough with a damp towel and let it rest for at least 30 minutes.
Divide the dough into four equal pieces and roll each piece into a long, thin rope (about 1/2 inch in diameter).
Cut the ropes into 1-inch pieces and roll each piece into a ball.
Flatten each ball with a rolling pin until it becomes a thin, round wrapper (about 3 inches in diameter).
Dust each wrapper with a little bit of cornstarch to prevent sticking.
Your homemade gyoza wrappers are now ready to be filled with your favorite filling and cooked.
Notes:
Basic gyoza dough: 250 g flour, 125 ml water, 1 hour rest.
Add 2 tablespoons for cornflour to ground chicken filling.