Kouign-amann is a type of round, caramelized pastry that originated in the town of Douarnenez, in the Finistère region of Brittany, France. The pastry is made with a buttery, flaky dough that is folded and layered with sugar, similar to a croissant. The name "kouign-amann" translates to "butter cake" in Breton, and it is traditionally made with butter, bread dough, and sugar. The dough is folded several times to create layers of butter and sugar, then shaped into a round and baked until golden brown and caramelized. The result is a pastry that has a crispy exterior and a rich, buttery, and sweet interior. It's usually enjoyed as a breakfast pastry or as a dessert.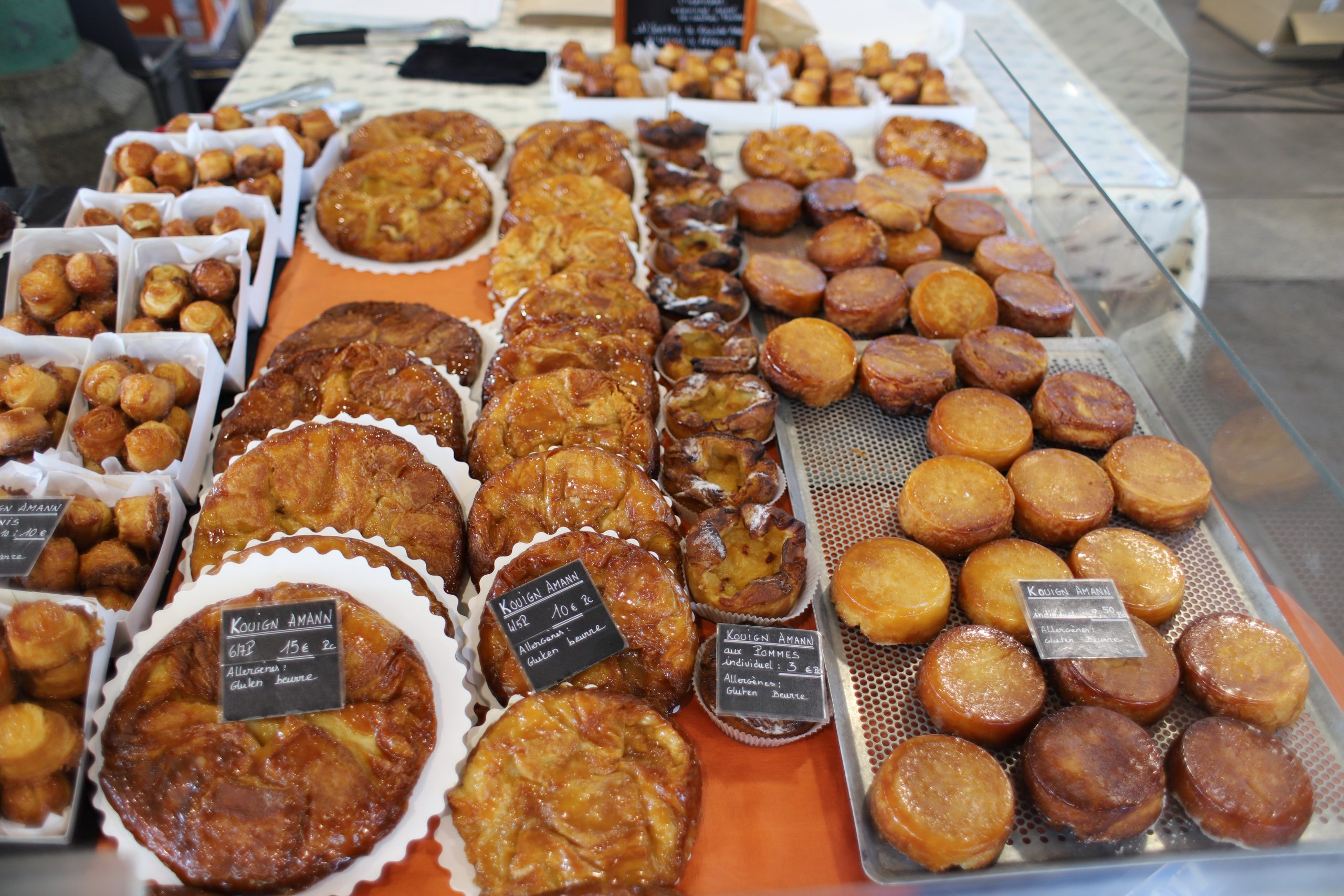 Here is a recipe for making kouign-amann at home:
Ingredients:
2 cups (280g) all-purpose flour
2 tsp (7g) instant yeast
1/2 cup (120ml) warm milk
1/2 cup (120g) unsalted butter, at room temperature
1/2 cup (100g) granulated sugar
1/2 tsp salt
Instructions:
In a large mixing bowl, combine the flour, yeast, and warm milk. Mix together until a dough forms.
Knead the dough for about 10 minutes, or until it becomes smooth and elastic. Place the dough in a greased bowl, cover with plastic wrap, and let it rise in a warm place for about 1 hour, or until it has doubled in size.
While the dough is rising, prepare the butter layer. In a separate bowl, mix together the butter, sugar, and salt until well combined.
Roll out the dough into a large rectangle that is about 1/4 inch thick. Spread the butter mixture over the dough, leaving a small border around the edges.
Fold the dough in thirds, like a letter, and roll it out again into a rectangle. Fold it in thirds again, and roll it out one more time.
Roll the dough into a tight cylinder and cut it into 8 equal pieces.
Place the pieces of dough into a greased round cake pan and let it rise for another 30 minutes.
Preheat the oven to 425°F (220°C). Once the dough has risen, place the pan in the oven and bake for 20-25 minutes, or until the kouign-amann are golden brown and caramelized.
Remove from the oven and let cool slightly before serving. Enjoy warm with a cup of coffee or tea.
Note: Kouign-amann is best served warm, straight from the oven. The butter will start to melt and the caramelized sugar will become softer as it cools.