Mussels are a popular dish in the coastal town of Saint-Malo in Brittany, France. The town is located in the northwest of France on the English Channel and is known for its seafood, particularly mussels. The mussels from Saint-Malo are highly sought after for their sweet and succulent flavor.
The traditional way of preparing mussels in Saint-Malo is "Moules Marinières," which means "sailors' mussels" in French. The recipe consists of steamed mussels cooked in a white wine and shallot broth, and sometimes with the addition of cream and butter. The mussels are typically served with French fries and a fresh baguette to soak up the flavorful broth.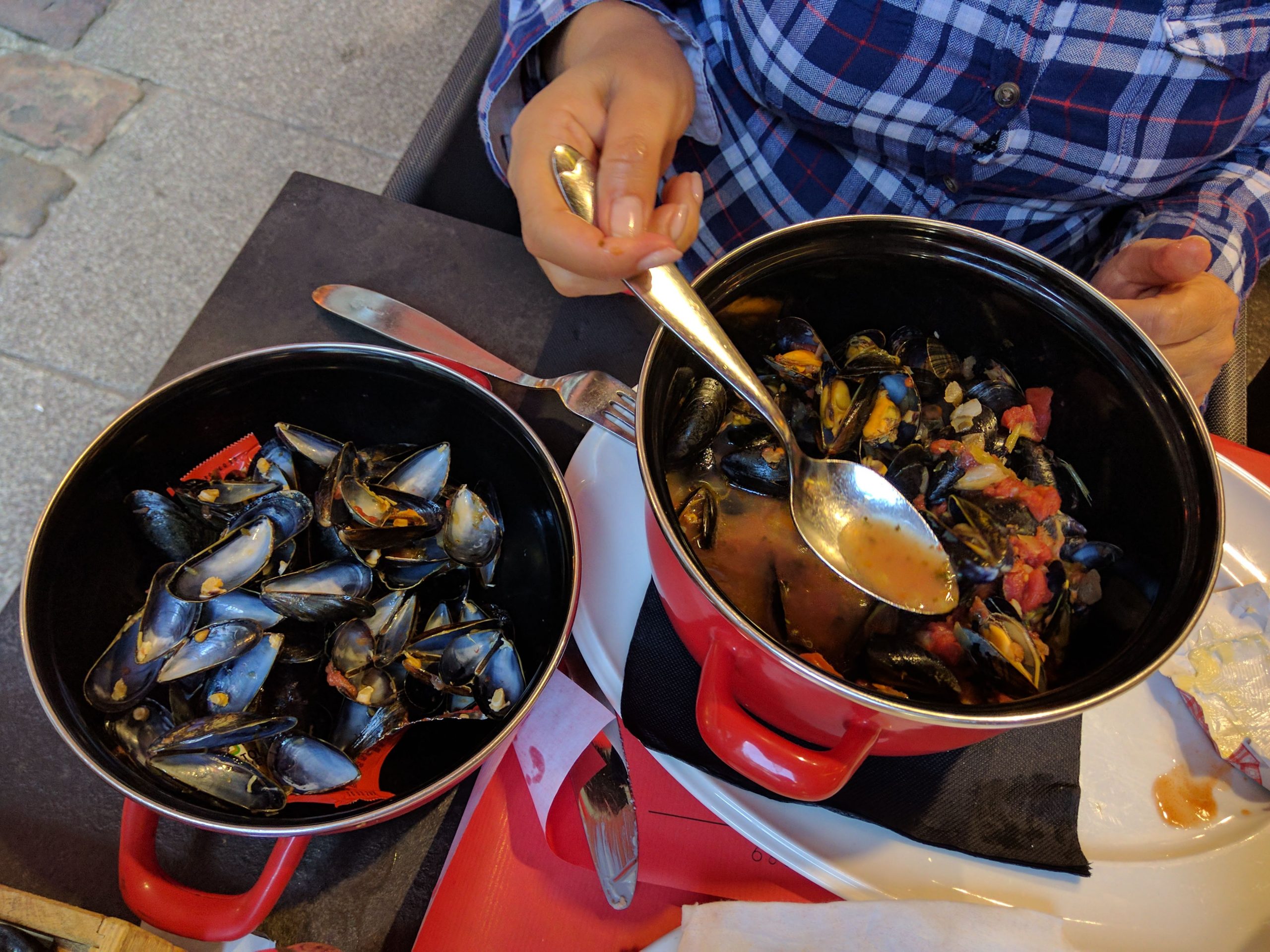 Here is a recipe for making Moules Marinières:
Ingredients:
2 kg of fresh mussels
1 large onion, finely chopped
4 cloves of garlic, minced
1 cup (250ml) of dry white wine
1/2 cup (125ml) of heavy cream
1/4 cup (60g) of unsalted butter
1/4 cup (60ml) of olive oil
1/4 cup (10g) of fresh parsley, chopped
Salt and pepper to taste
Instructions:
Begin by cleaning the mussels thoroughly. Rinse them under running water and remove any beards or debris. Discard any mussels that are open and do not close when tapped.
In a large pot or Dutch oven, heat the olive oil over medium heat. Add the onion, garlic, and parsley, and sauté until softened.
Add the white wine, bring to a boil, and reduce the heat to a simmer.
Add the mussels to the pot, cover with a lid and steam for about 5 minutes or until the mussels have opened. Discard any mussels that have not opened.
Remove the mussels from the pot with a slotted spoon and keep them warm.
Add the butter and cream to the broth and stir until the butter is melted and the cream is heated through.
Season with salt and pepper to taste.
Serve the mussels in bowls with the broth and a side of fries or a fresh baguette.
Note: it's important to make sure the mussels are fresh and well cleaned before cooking to avoid any kind of food poisoning.