Paella is a traditional Spanish dish that originates from the Valencia region of Spain. It is a rice dish that is cooked in a large, shallow pan called a paellera. The pan is traditionally placed over an open flame, but it can also be cooked on a stovetop.
Paella is typically made with short-grain rice, saffron, olive oil, garlic, onions, and a variety of meats, seafood, and vegetables. The meats can include chicken, rabbit, and snails, while the seafood can include shrimp, mussels, and clams. The vegetables can include tomatoes, green beans, and artichokes.
There are many variations of paella, but the most traditional one is the "Paella Valenciana," which is made with rabbit, chicken, and a variety of beans. Another popular variation is the "Paella de Marisco," which is made with various types of seafood such as squid, shrimp, and mussels.
The key to making a good paella is to use high-quality ingredients and to ensure that the rice is cooked properly. The rice should be cooked until it is tender but still slightly firm, and should not be mushy.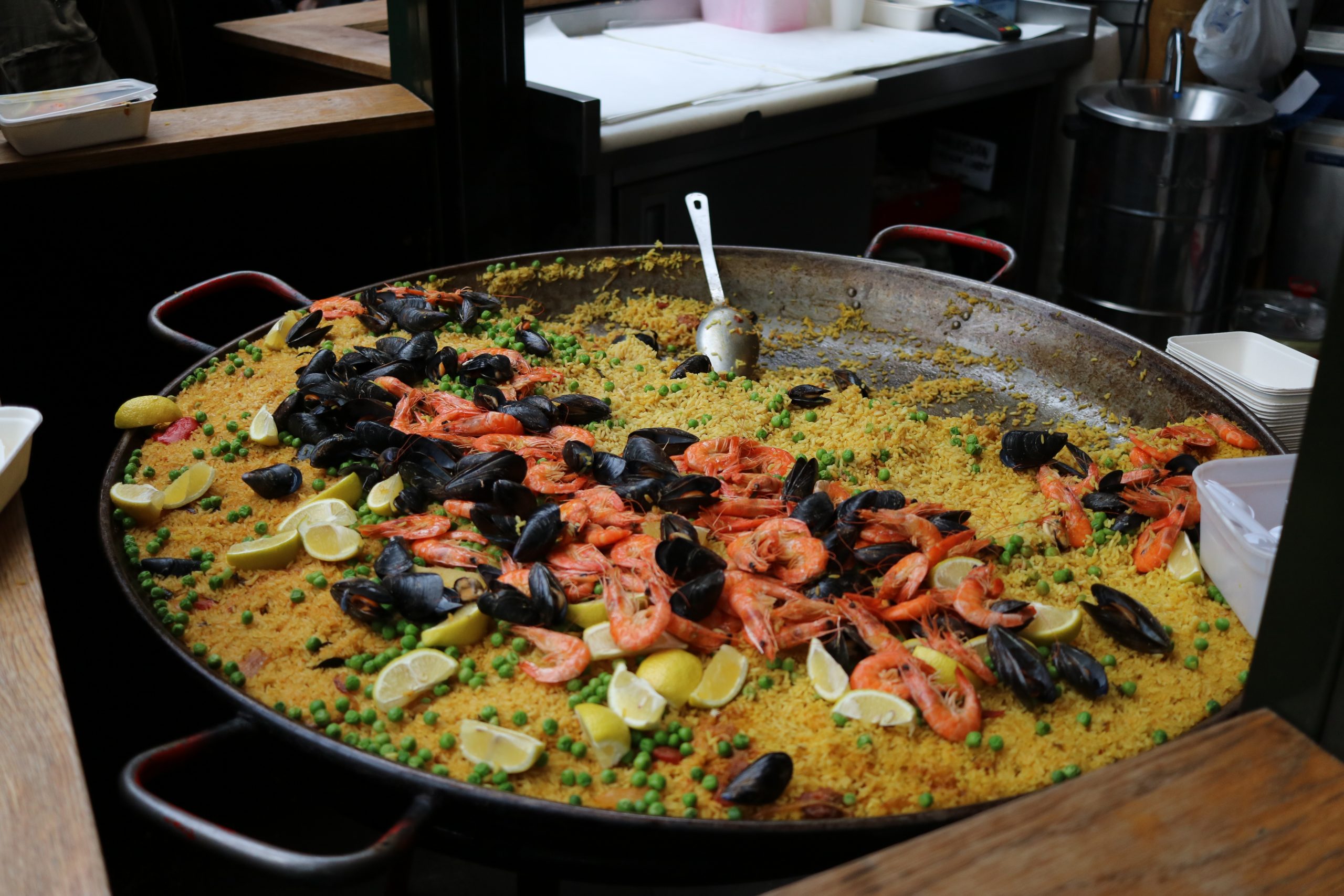 Here is a recipe for making traditional paella valenciana at home.
Ingredients:
Ingredients:
1/4 cup olive oil
1/2 lb rabbit, cut into small pieces
1/2 lb chicken, cut into small pieces
1 onion, chopped
2 cloves of garlic, minced
1 red bell pepper, diced
1 cup green beans, trimmed and cut into 1-inch pieces
1 teaspoon paprika
1/2 teaspoon saffron threads
Salt and pepper to taste
4 cups chicken broth
2 cups short-grain rice
1/2 cup peas (fresh or frozen)
Lemon wedges for serving
Instructions:
In a large paellera or wide shallow pan, heat the olive oil over medium-high heat. Add the rabbit and chicken and sauté until browned on all sides.
Add the onion, garlic, red bell pepper and green beans and sauté for a few more minutes.
Add the paprika and saffron, and stir to combine. Season with salt and pepper to taste.
Pour in the chicken broth, bring to a boil, then reduce the heat to low.
Stir in the rice, making sure that it is evenly distributed in the pan.
Do not stir the rice again, but shake the pan gently to ensure the rice cooks evenly.
Cook for 18-20 minutes or until the liquid is absorbed and the rice is tender but still slightly firm.
Stir in the peas and cook for a few more minutes.
Remove from heat and let it sit for a few minutes before serving.
Garnish with fresh parsley and serve with lemon wedges.
Note: You can also experiment with different meats, seafood, and vegetables depending on your preference. Some other ingredients often used in paella are chorizo, squid, mussels, shrimp, and tomatoes.
Also, paella is a social and sharing dish, usually made in a big pan to feed a group of people.
Enjoy your delicious homemade paella!