Peach frangipane tart is a delicious dessert made with a sweet shortcrust pastry base, almond frangipane filling, and fresh peaches on top. Here's a recipe you can try: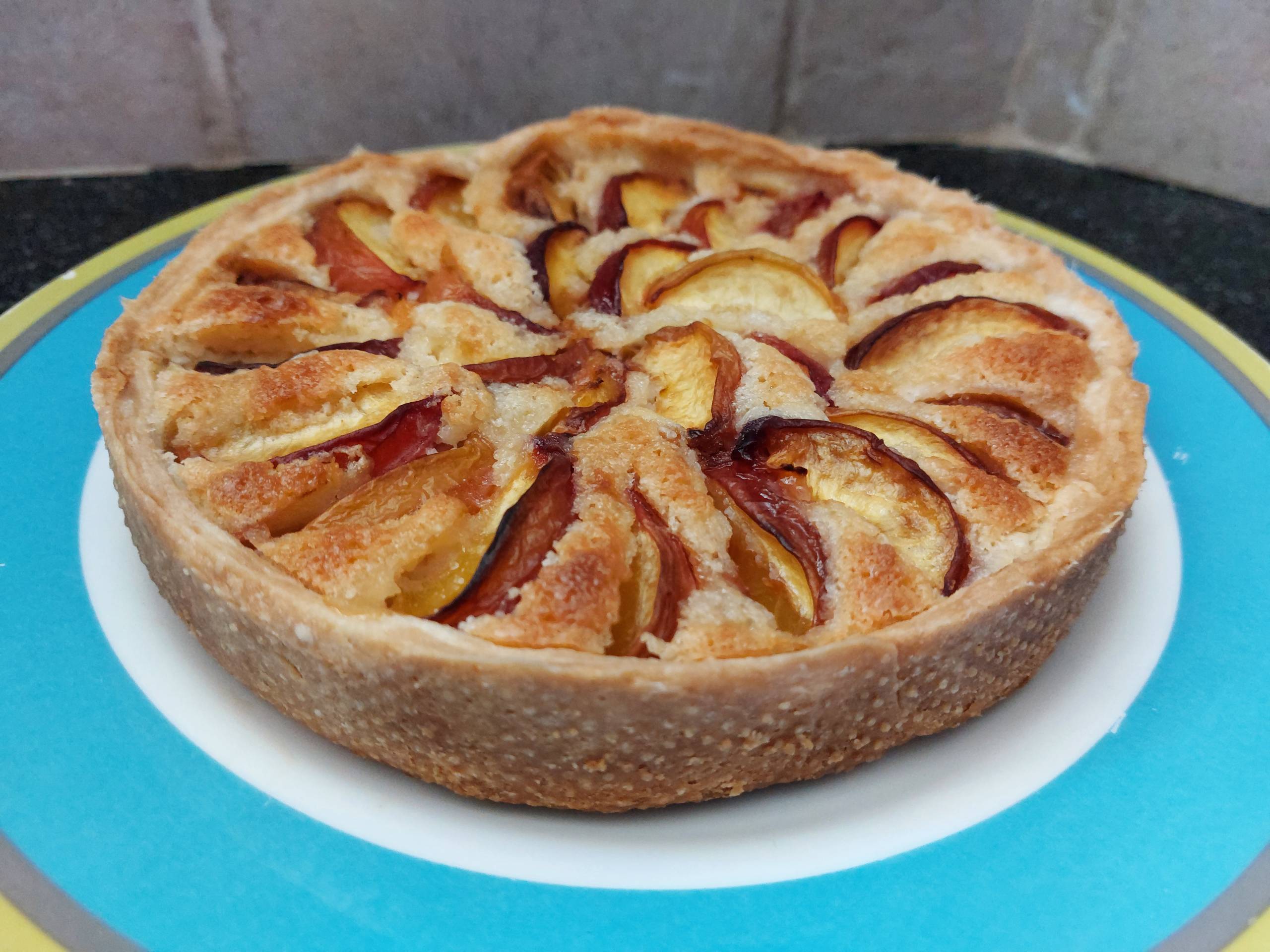 Ingredients:
For the pastry:
200g plain flour
100g unsalted butter, chilled and cubed
50g caster sugar
1 egg yolk
1-2 tbsp cold water
For the frangipane filling:
100g unsalted butter, softened
100g caster sugar
2 eggs
100g ground almonds
1 tbsp plain flour
1/2 tsp almond extract
For the topping:
2-3 fresh peaches, peeled and sliced
1 tbsp caster sugar
Method:
To make the pastry, put the flour, butter, and sugar into a food processor and pulse until the mixture resembles breadcrumbs. Add the egg yolk and water and pulse until the mixture comes together to form a dough. Wrap the dough in clingfilm and chill for at least 30 minutes.
Preheat the oven to 180°C/350°F. Roll out the pastry on a lightly floured surface and use it to line a 23cm/9in tart tin. Trim the edges and prick the base with a fork. Chill for another 30 minutes.
To make the frangipane filling, beat the butter and sugar together in a bowl until pale and fluffy. Beat in the eggs, one at a time, then fold in the ground almonds, flour, and almond extract.
Spoon the frangipane filling into the pastry case and spread it out evenly. Arrange the peach slices on top, overlapping slightly, and sprinkle with caster sugar.
Bake for 45-50 minutes, until the filling is set and golden brown. Leave to cool in the tin for 10 minutes, then transfer to a wire rack to cool completely.
Serve the peach frangipane tart with whipped cream or vanilla ice cream, if desired.
Enjoy!