Roasted peppers in a jar are a delicious and convenient way to enjoy the flavor and versatility of roasted peppers throughout the year. Here's a simple guide on how to prepare and store roasted peppers in a jar:
Selecting the peppers: Choose fresh, firm, and vibrant-colored peppers. Red, yellow, and orange peppers work best for roasting due to their sweeter flavor, but you can also use green peppers if you prefer a slightly more bitter taste.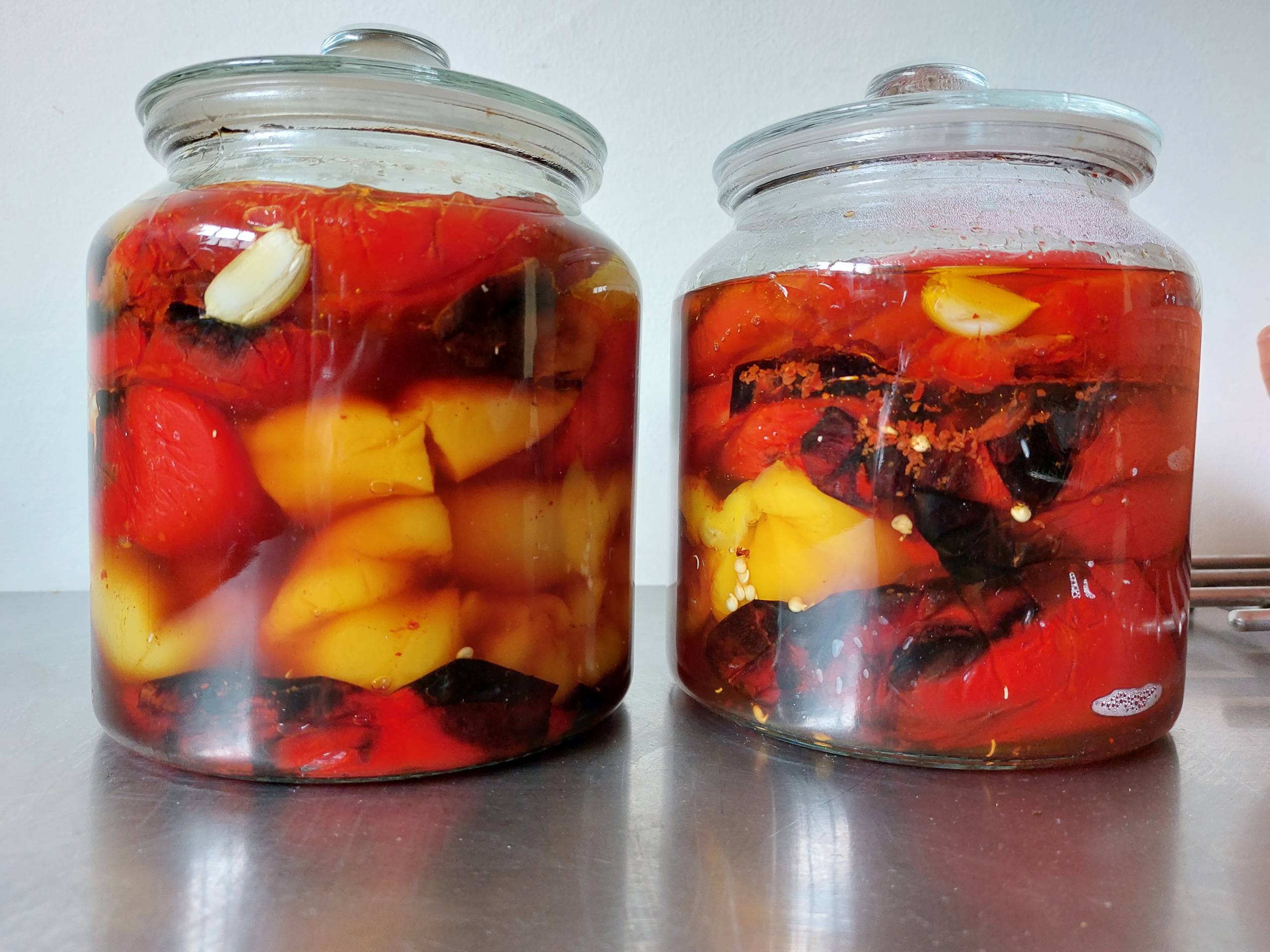 Roasting the peppers: There are several methods to roast peppers, but the most common ones are broiling, grilling, or using a gas stove burner. Here's a basic broiling method:
Preheat your broiler on high.
Place the peppers on a baking sheet lined with aluminum foil.
Put the sheet on the top rack, directly under the broiler.
Keep a close eye on the peppers and turn them occasionally to ensure even charring.
Roast until the skin is blistered and charred on all sides.
Cooling and peeling: Once the peppers are roasted, carefully transfer them to a heatproof bowl or a plastic bag and cover it tightly. This will create steam, making it easier to peel off the skin. Allow the peppers to cool for about 15-20 minutes.
Removing the skin and seeds: Once the peppers are cool enough to handle, peel off the charred skin. It should come off easily. Cut off the stem and discard the seeds and membranes from the inside. Rinse the peppers briefly to remove any remaining seeds.
Packing the jar: Cut the roasted peppers into desired shapes, such as strips or quarters. Sterilize a glass jar and its lid by boiling them in water for a few minutes or running them through a dishwasher cycle. Once sterilized and dry, pack the jar tightly with the roasted peppers, leaving about 1/2 inch (1.3 cm) of headspace at the top.
Adding seasoning (optional): If you like, you can add some flavorings to the jar. Common additions include garlic cloves, fresh herbs like basil or oregano, and a drizzle of olive oil. These will infuse the peppers with extra taste.
Sealing and storing: Once the jar is filled, wipe the rim clean, place the lid on tightly, and ensure it is properly sealed. Store the jar in the refrigerator, where the roasted peppers will stay fresh for up to 2-3 weeks.
Now you have delicious roasted peppers ready to be used in a variety of dishes! They can be added to sandwiches, salads, pasta dishes, pizzas, or enjoyed as a tasty snack on their own. Remember to refrigerate the jar after opening and use the peppers within a few days.