Roasted Sweet Potato with Roast Beef Strips Salad is a delicious and hearty dish that is perfect for any occasion. The combination of sweet and savory flavors makes this salad a perfect lunch or dinner option. Here is a simple recipe for making Roasted Sweet Potato with Roast Beef Strips Salad at home: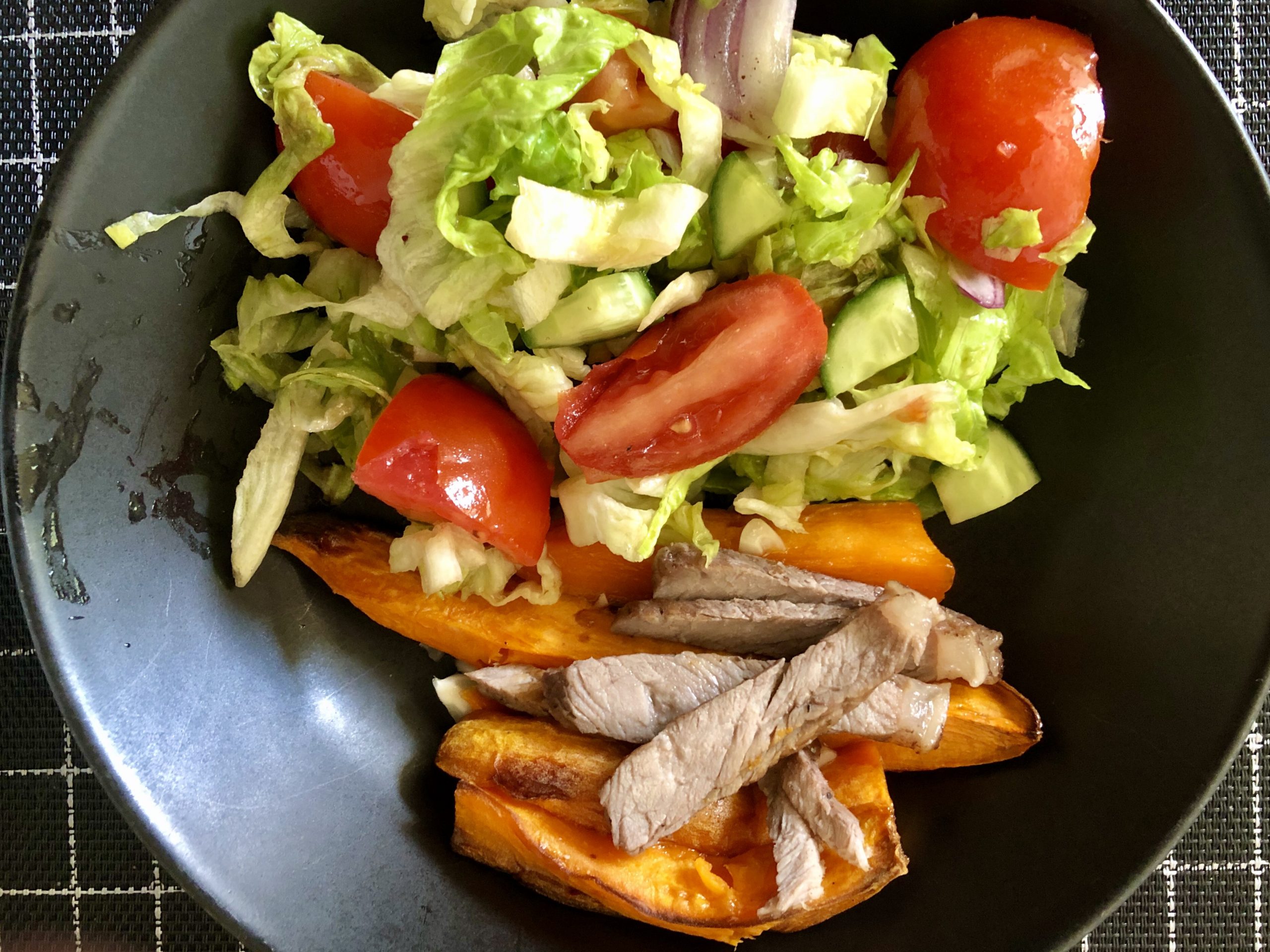 Ingredients:
2 large sweet potatoes, peeled and diced
1 tbsp olive oil
Salt and pepper, to taste
1 lb roast beef, sliced into thin strips
2 tbsp red wine vinegar
1 tbsp Dijon mustard
1 tsp honey
2 cloves of garlic, minced
2 tbsp chopped fresh parsley
4 cups mixed greens
Instructions:
Preheat the oven to 400°F (200°C).
In a large mixing bowl, toss the sweet potatoes with olive oil, salt, and pepper. Spread the sweet potatoes on a baking sheet and roast in the oven for 20-25 minutes, or until tender and golden brown.
In a large skillet, cook the roast beef strips over medium-high heat until browned and slightly crispy, about 5-7 minutes.
In a small mixing bowl, whisk together red wine vinegar, Dijon mustard, honey, and minced garlic.
In a large mixing bowl, toss together the mixed greens, roast beef strips, and roasted sweet potatoes. Drizzle the dressing over the top and toss to combine.
Garnish with chopped parsley and serve immediately.
This salad is a perfect balance of sweet and savory flavors, the sweetness of the roasted sweet potatoes pairs perfectly with the savory roast beef strips and the tangy dressing. The mixed greens add a nice crunch and freshness to the dish. This salad can be enjoyed as a main dish or a side dish, and it's perfect for a lunch or dinner.