Led by Industry-First 'Sous Vide' Culinary Appliances, Line Delivers Advanced Features for Today's Technicurean Home Chef
Signature Kitchen Suite is debuting its broadened portfolio of industry-first culinary innovations that will join the brand's award-winning line of luxury, built-in appliances. The expanded collection includes new pro rangetops and wall ovens beginning to launch this month, featuring the innovation the trailblazing brand is known for, sous vide technology, along with a new induction cooktop and microwave oven drawer available later this summer.
A recent study conducted by the Research Institute for Cooking & Kitchen Intelligence reveals that kitchen designers have seen increased demand for dual-fuel appliances in the past year, and that convection, steam and induction cooking are on the rise. Under Signature Kitchen Suite's "True to Food" mission, the new culinary advancements address these evolving needs and cater to today's forward-thinking TechnicureanTM home chefs. The brand has quickly become known for delivering precision and high performance with each of its offerings including the widely celebrated 48-inch dual fuel pro range with sous vide and induction modalities, an industry-first innovation bringing restaurant-quality cooking into homes.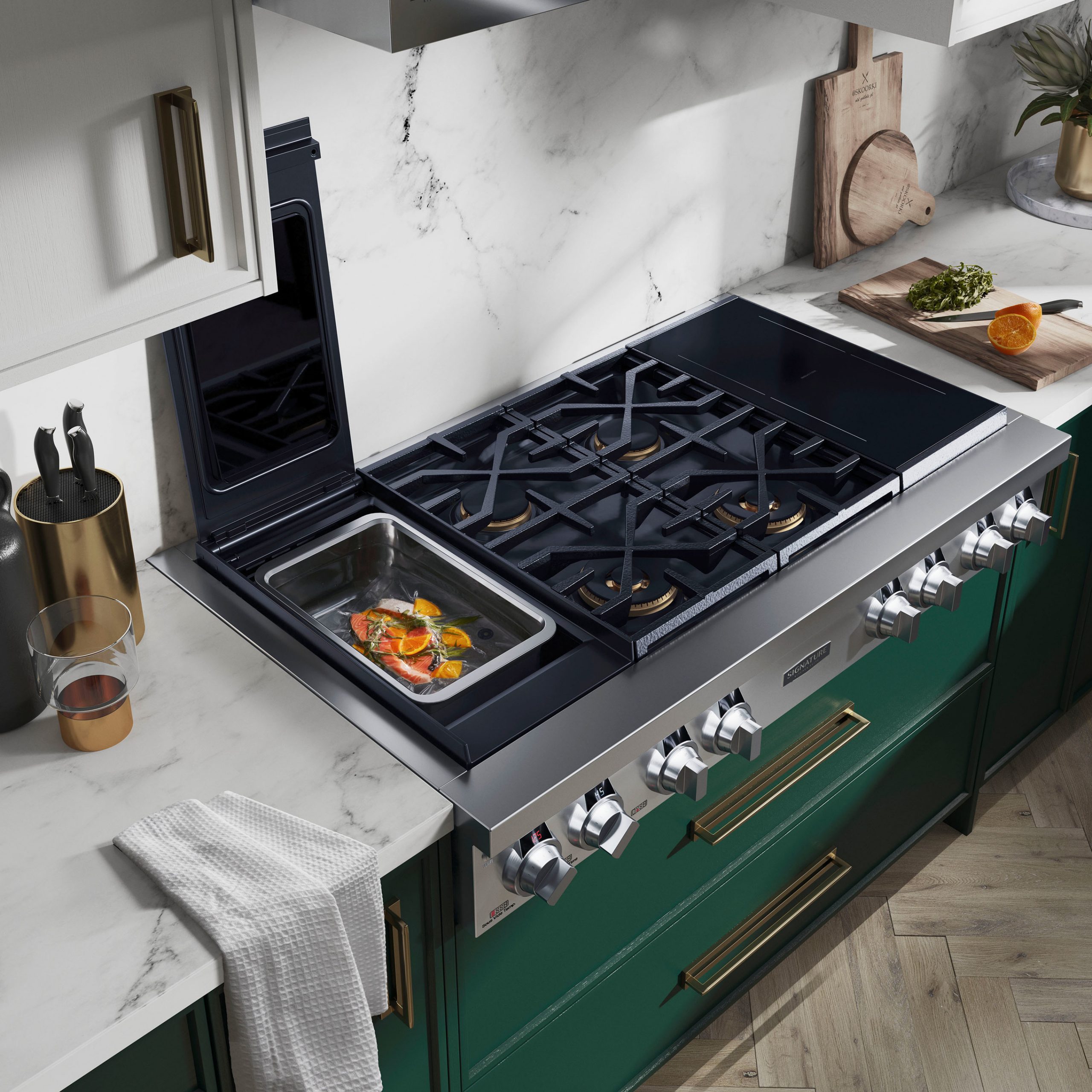 Signature Kitchen Suite is debuting its broadened portfolio of industry-first culinary innovations that will join the brand's award-winning line of luxury, built-in appliances.
"Signature Kitchen Suite embraces the idea that better cooking is possible through better thinking, and nowhere is this more evident than in our 2020 culinary portfolio, where our appliances incorporate purposeful design and professional-grade features to help elevate the functionality of today's home kitchen," said Zach Elkin, general manager for Signature Kitchen Suite. "With our full line of luxury, built-in appliances you'll find the perfect blend of innovation, precision and purposeful design for every kitchen, and every appetite."
Each of the new Wi-Fi enabled smart appliances is powered by ThinQ® technology and punctuated by the ultimate in precision cooking; they include sous vide-equipped pro rangetops and built-in wall ovens and more:
Pro Rangetops: Precision Comes Out on Top with Unmatched Functionality and Flexibility
Much like Signature Kitchen Suite's pro range counterparts, the company's new pro rangetops provide the ultimate in flexibility and precision. The 36- and 48-Inch Pro Rangetops are the industry's first dual-fuel cooktops with built-in sous vide to deliver the ultimate in precision cooking. Sous vide allows for precise temperature control within one-degree of setpoint – without the need for a circulator – thanks to a hermetically and magnetically sealed lid. This means at-home chefs can count on professional-style results every time, capturing the full, true flavor of foods while retaining vitamins and nutrients.
The pro rangetops' Ultra-High™ Burners provide powerful gas cooking functionality for better searing and quick stir frying – 23K BTUs for the 48-inch model and 18K BTU output for the 36-inch rangetop. The Ultra-Low™ Burners simmer down to maintain temperatures as low as 100 degrees to prepare delicate sauces and sugary confections. The two-zone induction area can also be used for a teppanyaki plate or larger cookware.
Built-In Wall Ovens: Modern Style, Precise Performance and Eye-Popping Innovations
Signature Kitchen Suite's new Single and Double Wall Ovens with Steam Sous Vide combine the ultimate cooking modalities for gourmet results. The convection system cooks food quickly and evenly, while the steam helps to preserve texture, appearance and taste. Also new is the steam sous vide cooking mode which allows users to enjoy sous vide results right in the oven without the need for preheating. Home chefs can achieve delicious results that are moist and tender on the inside, crisp and flaky on the outside, all with minimal effort. The SpeedClean™ function makes fast work of cleaning a lightly-soiled oven with just a 10-minute cycle, using only water.
"Flex" Induction Cooktop: High Performance Combined with Maximum Versatility
The new Signature Kitchen Suite 36-inch Induction Cooktop, available in August, features the most powerful center burner available* with 7,000 watts of power and a 12-inch dual center element that can boil a quart of water in about a minute. From a small pan to a large griddle, each Flex Cooking Zone combines elements to easily accommodate different sizes and shapes of cookware. With four inductors, each zone can provide up to 3,700 watts of power. When combined with a Signature Kitchen Suite pro-style hood, the innovative Wi-Fi feature lets the cooktop and hood communicate with each other, so the elements and fans are synchronized.
Microwave Drawer: Modern Technology Meets Fresh Aesthetic
The new 1.2-cubic-foot Signature Kitchen Suite Microwave Oven Drawer, available in July, is designed to provide plenty of room to heat large items like casserole dishes and dinner platters. Since the microwave is built-in, at-home chefs can utilize more counter space to prepare their best meal. Its Easy Touch automatic drawer system allows users to open the microwave with a gentle pull or the touch of a button and shuts smoothly with a small nudge. The even gliding action and solid construction help prevent liquids from spilling during opening and closing. An elegant design with sleek glass touch controls completes the look.
For more information on the full suite of appliances including the location of specialty kitchen dealers carrying the expanded line, visit SignatureKitchenSuite.com.
*Among leading brand 36-inch induction cooktops.
SOURCE: Signature Kitchen Suite
Signature Kitchen Suite delivers innovation in the luxury built-in kitchen appliance market with leading-edge technology that provides more flexibility to prepare food in the best possible way, demonstrating respect for the food at every level. The new luxury brand from global home appliance leader LG Electronics, Signature Kitchen Suite is embracing a new generation of forward-thinking Technicurean™ cooks, combining their passion for food with their appreciation for innovation. From the first-of-its-kind built-in sous vide range to the industry's only built-in French Door refrigerator with a convertible middle drawer, Signature Kitchen Suite's versatile and high-performance appliances deliver the ultimate precision cooking experience. Visit www.signaturekitchensuite.com