Strawberry Tiramisu with Pistachio Mascarpone Cream is a delightful twist on the classic Italian dessert. The combination of sweet strawberries, creamy mascarpone, and nutty pistachios creates a mouthwatering dessert that is sure to impress. Here's a recipe to guide you through the process:
Ingredients:
1 cup fresh strawberries, sliced
1 cup heavy cream
1/2 cup powdered sugar
1 cup mascarpone cheese
1/2 cup crushed pistachios
1 teaspoon vanilla extract
24 ladyfinger biscuits
1 cup brewed coffee, cooled
2 tablespoons amaretto liqueur (optional)
Cocoa powder, for dusting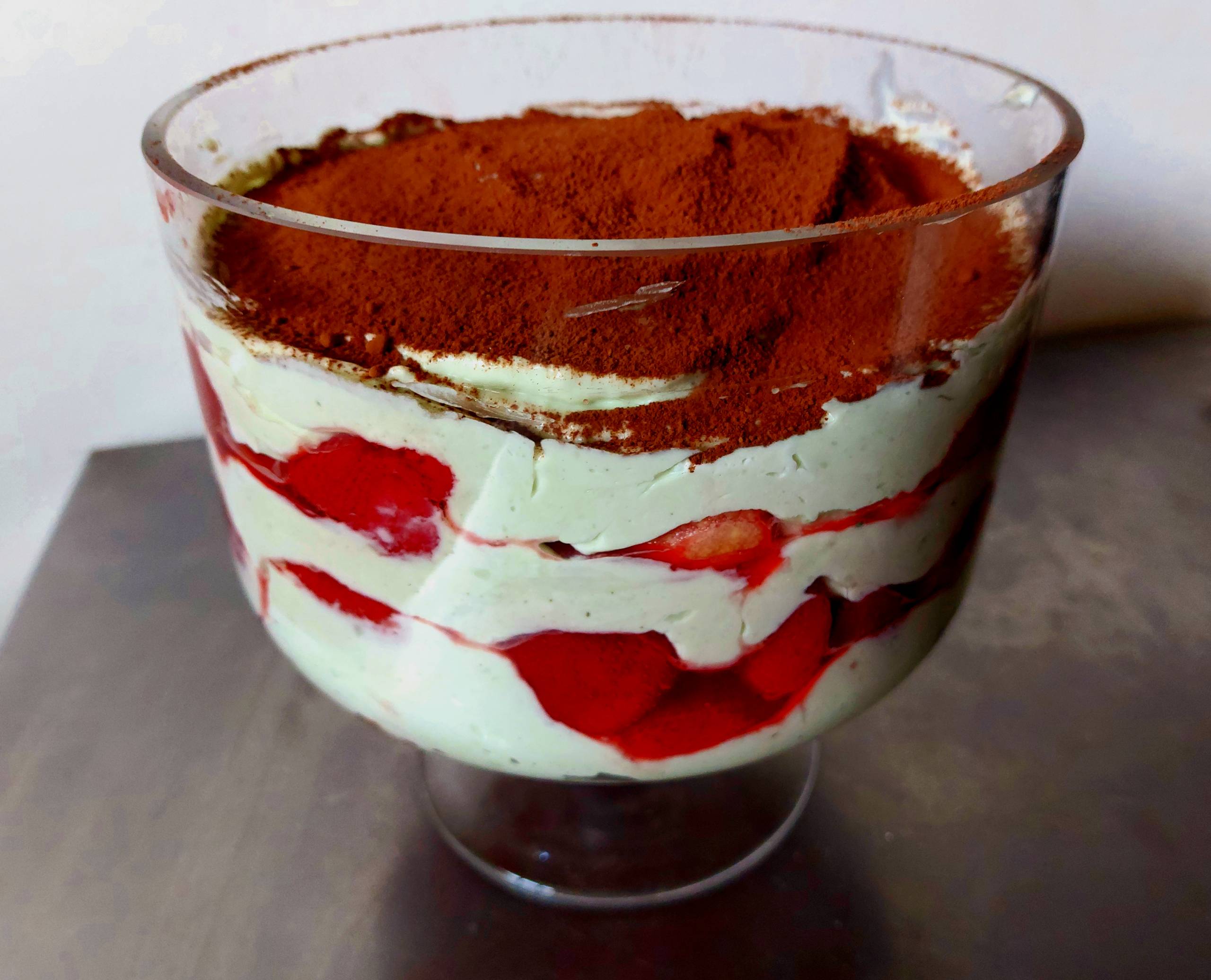 Instructions:
In a mixing bowl, whip the heavy cream until soft peaks form. Gradually add powdered sugar and vanilla extract while continuing to whip until stiff peaks form. Set aside.
In another bowl, combine the mascarpone cheese and crushed pistachios. Mix well until the pistachios are evenly distributed.
Gently fold the whipped cream into the mascarpone-pistachio mixture until well combined. Set aside.
In a shallow dish, combine the brewed coffee and amaretto liqueur (if using).
Dip each ladyfinger biscuit into the coffee mixture for a few seconds, making sure not to soak them for too long. Place them in a single layer in the bottom of a serving dish.
Spread half of the pistachio mascarpone cream over the layer of soaked ladyfingers.
Arrange half of the sliced strawberries on top of the cream.
Repeat the layers by dipping the remaining ladyfingers in the coffee mixture and placing them over the strawberries.
Spread the remaining pistachio mascarpone cream over the second layer of ladyfingers.
Top with the remaining sliced strawberries and sprinkle some crushed pistachios on top.
Dust the tiramisu with cocoa powder for garnish.
Cover the dish with plastic wrap and refrigerate for at least 4 hours, or overnight, to allow the flavors to meld and the dessert to set.
Serve chilled and enjoy!
This strawberry tiramisu with pistachio mascarpone cream is a refreshing and indulgent dessert that is perfect for special occasions or any time you want to treat yourself to something delicious. Enjoy!